Page 1 of 10
| | | |
| --- | --- | --- |
| Aberdeen Win: 2.50 | Draw: 3.00 | Hibernian Win: 3.00 |

00 (local)
Scot Prem
Hibernian @ 3
Not an easy bet
Probability
33%
ROI
$1.00 per $1.00
Probability: 67%
ROI: $1.00 per $1.00
Prediction Date
16/10/2021 10:53:30
Teams Not Aligned
Patterns Aligned
Share This Page on Twitter @AberdeenFC @HibernianFC #StandFree #HibernianFC #SPFL #Aberdeen #Hibernian #ABEHIB

Odds History

Shortening odds demonstrates high confidence on the outcome

Bookmakers Margins

A small bookies cut (0.05) demonstrates high confidence on favourite to win
4 Game Form Table

| | Played | Win | Draw | Lose | For | Against | Diff | Points |
| --- | --- | --- | --- | --- | --- | --- | --- | --- |
| | P | W | D | L | F | A | D | Pts |
| Aberdeen | 4 | 0 | 0 | 4 | 3 | 8 | -5 | 0 |
| Hibernian | 4 | 1 | 2 | 1 | 4 | 4 | 0 | 5 |
| Aberdeen @ Home | 4 | 0 | 2 | 2 | 3 | 5 | -2 | 2 |
| Hibernian Away | 4 | 0 | 3 | 1 | 4 | 5 | -1 | 3 |

Aberdeen's Recent Games

16/10 Dundee 2 - 1 Aberdeen

Lost

03/10 Aberdeen 1 - 2 Celtic

Lost

26/09 St Mirren 3 - 2 Aberdeen

Lost

18/09 Aberdeen 0 - 1 St Johnstone

Lost

11/09 Motherwell 2 - 0 Aberdeen

Lost

Hibernian's Recent Games

16/10 Hibernian 0 - 3 Dundee Utd

Lost

03/10 Rangers 2 - 1 Hibernian

Lost

26/09 Hibernian 1 - 0 St Johnstone

Won

18/09 Hibernian 2 - 2 St Mirren

Drew

12/09 Hearts 0 - 0 Hibernian

Drew

Aberdeen's Recent Home Games

03/10 Aberdeen 1 - 2 Celtic

Lost

18/09 Aberdeen 0 - 1 St Johnstone

Lost

29/08 Aberdeen 1 - 1 Ross County

Drew

Hibernian's Recent Away Games

03/10 Rangers 2 - 1 Hibernian

Lost

12/09 Hearts 0 - 0 Hibernian

Drew

22/08 Dundee 2 - 2 Hibernian

Drew

Aberdeen's Recent Games

16/10 Dundee 2 - 1 Aberdeen

Lost

03/10 Aberdeen 1 - 2 Celtic

Lost

26/09 St Mirren 3 - 2 Aberdeen

Lost

18/09 Aberdeen 0 - 1 St Johnstone

Lost

11/09 Motherwell 2 - 0 Aberdeen

Lost

Hibernian's Recent Games

16/10 Hibernian 0 - 3 Dundee Utd

Lost

03/10 Rangers 2 - 1 Hibernian

Lost

26/09 Hibernian 1 - 0 St Johnstone

Won

18/09 Hibernian 2 - 2 St Mirren

Drew

12/09 Hearts 0 - 0 Hibernian

Drew

Aberdeen's Recent Home Games

03/10 Aberdeen 1 - 2 Celtic

Lost

18/09 Aberdeen 0 - 1 St Johnstone

Lost

29/08 Aberdeen 1 - 1 Ross County

Drew

Hibernian's Recent Away Games

03/10 Rangers 2 - 1 Hibernian

Lost

12/09 Hearts 0 - 0 Hibernian

Drew

22/08 Dundee 2 - 2 Hibernian

Drew

Aberdeen's & Hibernian's Previous Encounters

Previous Encounters

Prediction

06/02 Hibernian 2 - 0 Aberdeen $26.00

✔

06/11 Aberdeen 2 - 0 Hibernian $20.80

✔

30/08 Hibernian 0 - 1 Aberdeen -$10.00

✘

07/12 Hibernian 3 - 0 Aberdeen -$10.00

✘

05/10 Aberdeen 1 - 1 Hibernian -$10.00

✘

19/05 Hibernian 1 - 2 Aberdeen -$10.00

✘

02/02 Hibernian 1 - 2 Aberdeen $28.00

✔

09/11 Aberdeen 1 - 0 Hibernian -$10.00

✘

25/08 Hibernian 1 - 1 Aberdeen -$10.00

✘

05/05 Aberdeen 0 - 0 Hibernian -$10.00

✘

17/02 Hibernian 2 - 0 Aberdeen $27.50

✔

16/12 Aberdeen 4 - 1 Hibernian -$10.00

✘

14/10 Hibernian 0 - 1 Aberdeen $27.00

✔
Aberdeen's previous game was on the 3/10/2021 20 days previous to this game so they will be energetic having had enough down time . They have won 0, drawn 1 and lost 2 of their earlier 5 home games. Their home form is DLL and across all games is DLLLL. Hibernian's last game was on the 3/10/2021 20 days previous to this game so they will be fresh having had time to reflect . They have lost 1, drawn 2 and haven't won any of their earlier 5 away games. Their away form is DDL and across all games is WDDWL. Hibernian's next gameis in 7 days on the 23/10/2021 so they have plenty of time to focus on this game. Aberdeen's team1s games across all competitions have proved to exhibit consistent results when used to make predictions. We noticed that the odds for a home win have been increasing at points so maybe the bookies seem more confident that Aberdeen will not win. The return on your dollar is not great at 1.00 and the low probability means so there's a high risk you could lose your money.
All the Latest Sports News Straight from FiC
"He has compromised his principles"- Hugh Keevins makes incredible Postecoglou claim - Vitalfootball
After a hard fought win over Aberdeen on Sunday, there has been talk of the style in which the three points were picked up. There was very little 'Angeball' to be seen. That high press and… The 11 Aberdeen summer transfers rated as Scott Brown gets a pass but eight signings handed brutal verdicts - Daily Record
Stephen Glass moulded a new look Dons squad over the summer but his team have been struggling badly in recent weeks.
Every word of Dave Cormack's on air ding dong as Aberdeen chief threatens to cut interview short - Daily Record
The Pittodrie chairman wasn't pleased with some of the questions being put to him on the subject of Stephen Glass.
Hibernian 0-3 Dundee United: Impressive visitors first win at Easter Road in seven years - BBC News
Dundee United produce a flawless display to sweep aside Hibernian at Easter Road and leapfrog their hosts into third in the Scottish Premiership.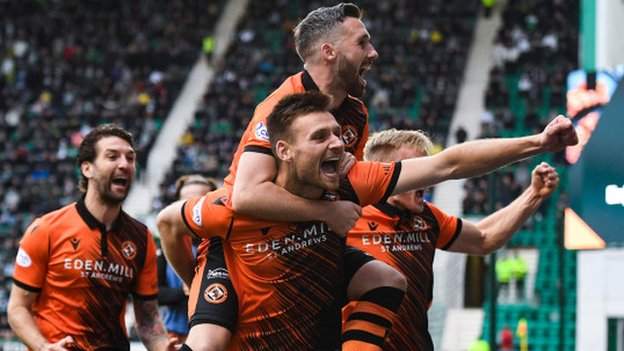 Powered by newsapi.org