Page 3 of 8
| | | |
| --- | --- | --- |
| QPR Win: 1.91 | Draw: 3.80 | Sunderland Win: 3.50 |

45 (local)
EFL Cup
Waiting
Not an easy bet
Probability
0%
ROI
$0.00 per $1.00
Probability: 0%
ROI: $0.00 per $1.00
Prediction Date
20/10/2021 10:23:18
Teams Not Aligned
Patterns Not Aligned
Share This Page on Twitter @QPR @SunderlandAFC #QPR #SAFC #iFollow #EFL #Sunderland #QPRSUN

Odds History

Shortening odds demonstrates high confidence on the outcome

Bookmakers Margins

A small bookies cut (0.05) demonstrates high confidence on favourite to win
4 Game Form Table

| | Played | Win | Draw | Lose | For | Against | Diff | Points |
| --- | --- | --- | --- | --- | --- | --- | --- | --- |
| | P | W | D | L | F | A | D | Pts |
| QPR | 4 | 3 | 0 | 1 | 7 | 6 | 1 | 9 |
| Sunderland | 4 | 3 | 0 | 1 | 11 | 5 | 6 | 9 |
| QPR @ Home | 4 | 3 | 1 | 0 | 8 | 4 | 4 | 10 |
| Sunderland Away | 4 | 3 | 0 | 1 | 8 | 5 | 3 | 9 |

QPR's Recent Games

19/10 QPR 1 - 0 Blackburn

Won

16/10 Fulham 4 - 1 QPR

Lost

02/10 QPR 3 - 2 Preston

Won

28/09 QPR 2 - 0 Birmingham

Won

24/09 West Brom 2 - 1 QPR

Lost

Sunderland's Recent Games

19/10 Crewe 0 - 4 Sunderland

Won

16/10 Gillingham 1 - 2 Sunderland

Won

02/10 Portsmouth 4 - 0 Sunderland

Lost

28/09 Sunderland 5 - 0 Cheltenham

Won

25/09 Sunderland 1 - 0 Bolton

Won

QPR's Recent Home Games

19/10 QPR 1 - 0 Blackburn

Won

02/10 QPR 3 - 2 Preston

Won

28/09 QPR 2 - 0 Birmingham

Won

21/09 QPR 2 - 2 Everton

Drew

Sunderland's Recent Away Games

19/10 Crewe 0 - 4 Sunderland

Won

16/10 Gillingham 1 - 2 Sunderland

Won

02/10 Portsmouth 4 - 0 Sunderland

Lost

21/09 Wigan 0 - 2 Sunderland

Won

QPR's Recent Games

19/10 QPR 1 - 0 Blackburn

Won

16/10 Fulham 4 - 1 QPR

Lost

02/10 QPR 3 - 2 Preston

Won

28/09 QPR 2 - 0 Birmingham

Won

24/09 West Brom 2 - 1 QPR

Lost

Sunderland's Recent Games

19/10 Crewe 0 - 4 Sunderland

Won

16/10 Gillingham 1 - 2 Sunderland

Won

02/10 Portsmouth 4 - 0 Sunderland

Lost

28/09 Sunderland 5 - 0 Cheltenham

Won

25/09 Sunderland 1 - 0 Bolton

Won

QPR's Recent Home Games

19/10 QPR 1 - 0 Blackburn

Won

02/10 QPR 3 - 2 Preston

Won

28/09 QPR 2 - 0 Birmingham

Won

21/09 QPR 2 - 2 Everton

Drew

Sunderland's Recent Away Games

19/10 Crewe 0 - 4 Sunderland

Won

16/10 Gillingham 1 - 2 Sunderland

Won

02/10 Portsmouth 4 - 0 Sunderland

Lost

21/09 Wigan 0 - 2 Sunderland

Won

QPR's & Sunderland's Previous Encounters

Previous Encounters

Prediction

10/03 QPR 1 - 0 Sunderland $18.00

✔

14/10 Sunderland 1 - 1 QPR -$10.00

✘
All the Latest Sports News Straight from FiC
Queens Park Rangers v Preston North End - bbc.co.uk
Ilias Chair inspires a late Queens Park Rangers comeback as they beat Preston North End in a Championship thriller.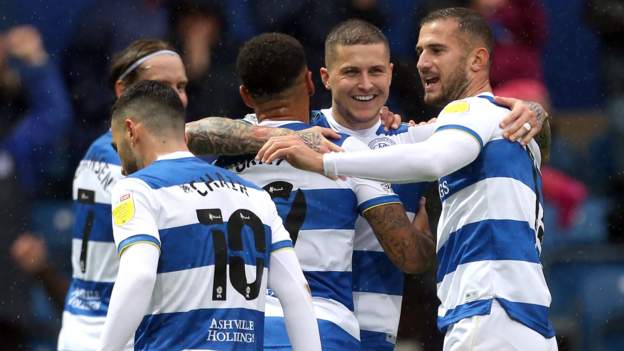 'Growing in stature': Phil Smith's player ratings as Sunderland beat Bolton Wanderers following Carl Winchester winner - Sunderland Echo
Sunderland got back to winning ways in League One after a 1-0 victory over Bolton Wanderers at the Stadium of Light – but how did each player fare for Lee Johnson's side?
Report: North Melbourne in talks to land fringe Sun and top draft pick in salary dump deal - SEN
There's details on how the deal would play out.
Lee Johnson delivers brutally honest verdict on Sunderland defeat and sends apology to travelling fans - Sunderland Echo
Lee Johnson said his side were too slow to adapt to the conditions as they slumped to a heavy 4-0 defeat at Fratton Park on Saturday afternoon.
Powered by newsapi.org